Knowing what you want and being confident in making the right decisions are essential for successful kitchen remodeling. Remodeling projects can be expensive; hence, extensively researching every detail is crucial, especially if you've never done a renovation.
You're not alone if you've decided to do a kitchen remodel but don't know where to start. The pressure to create a space that meets your household needs while delivering style and functionality can be overwhelming. However, planning is the secret to a renovation project's success; it ensures the elements of a typical kitchen are considered, leaving nothing out.
Therefore, this article highlights practical steps to plan a successful kitchen remodel.
Kitchen Remodel Planning: Steps to Design and Achieve Your Dream Kitchen
Project Plan: Think About Your Needs
This step may be the most fun or most challenging of the entire kitchen remodel planning process, as it dictates how every other kitchen detail fits into your new design. You need to decide on your desired kitchen features and address everything that confuses you. Consider checking online for design inspiration if you have no ideas regarding your preferred kitchen design. Break the layout down per section to effectively focus on all aspects.
Try to be specific with materials to have a more vivid mental picture of the final result. Do you want marble countertops? Would you like a farmhouse sink instead? What design do you want for your custom cabinetry? Overall, keep your plan flexible. You'll most likely reject some ideas or material choices as you proceed with the project.
Scope of Work
Now that you have an idea of the features you want in your dream kitchen, the next thing is to begin work on a kitchen checklist. Remodeling projects are custom tasks, as there's no set template to follow. List everything you need, from your preferred kitchen island design and backsplash choice to comfy seating options and task lighting.
A list of your needs will be extremely helpful when meeting with contractors. You can hand each contractor a copy of your renovation checklist to get cost estimates.
Set a Budget
Your project's scope will determine costs, and your checklist might not agree with your budget. Before finalizing your plan, create a rough estimate for yourself, considering the cost of the proposed features and fittings you desire for your new kitchen.
Keep in mind that the choice of materials also influences kitchen remodel costs. Be open to cutting expenses. To maintain your budget, you may have to consider open shelving, quartz countertops, and replacing marble backsplash with subway tiles, as opposed to other expensive options.
Having a budget will guide you when choosing finishes and appliances, and it will also serve as a guide for your remodeling contractor when suggesting material options.
Kitchen Layout and Design
The design aspect of a kitchen remodel plan is relatively straightforward, as you can find ideas online. However, space planning might be a little complicated, and you must finalize your kitchen layout before purchasing appliances and other fixtures.
How big do you want the kitchen island? How many people will be cooking? Are you a messy cook? The layout will influence your kitchen's functionality, helping you figure out where things go, space requirements, and a more accurate cost.
Perhaps you wish to expand the kitchen; you'll have to draft a plan of your desired layout while accounting for your desired features. Consider consulting a designer if you can't prepare the layout.
Material Selection
While many consider this step fun, it's a nightmare for some people, as so many choices exist. Carefully consider everything from stainless steel appliances, under cabinet lighting, sinks, backsplashes, countertops, faucets, and flooring – to name a few.
Do you prefer subway tile backsplashes, or would you rather choose glass or porcelain? Remember to keep finishes in mind. If you've found the perfect farmhouse sink, it's advisable to get a sink faucet of the same color.
Preparing for the Project
After selecting your materials, you're ready to start the project. Begin by cleaning out cupboards and putting things you don't need in storage. Will you be staying in your home during the renovation?
Your response will determine whether or not you need to set up a makeshift kitchen. You can plan your meals around small, easily movable appliances like slow cookers and microwaves. And if you've been planning a trip, consider this the time to get away for a while.
Finishing
Omitting small details during renovations is often inevitable. Note the shortcomings you notice and share them with your remodeling contractor once the project is complete. Paint touch-ups, broken tiles, missing plug covers, etc., will be addressed once the main job is done.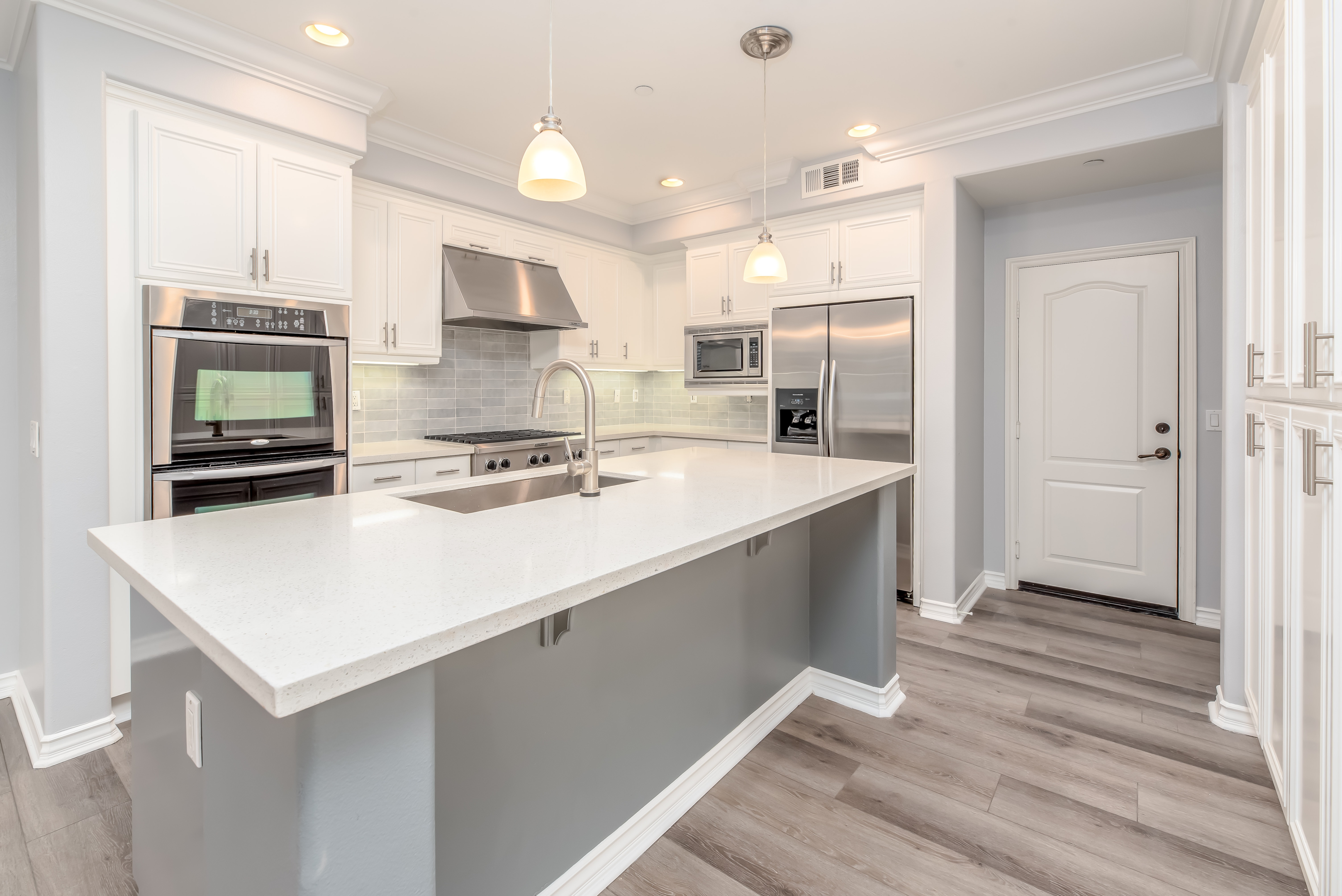 Common Kitchen Remodeling Mistakes to Avoid
Not Being Explicit with Your Needs
This mistake ultimately influences your satisfaction, project duration, and budget. Before meeting any contractor, be sure you've accounted for everything you desire for your dream kitchen. Do you prefer energy-efficient appliances? Do you want open shelves in place of upper cabinets?
Make all your desires clear. Failure to do so means your construction manager may assume higher-end choices that may impact costs and your proposed design.
Advance Payments
Paying the complete project fee upfront is a recipe for disaster. As a rule of thumb, pay only 30% of the entire cost, or enough to cater to materials and logistics. Then create a schedule of payments based on progress and milestones completed.
Ignoring What You Can't See
Never settle. After completing your renovation project, thoroughly inspect your new kitchen for discrepancies and minor, hidden faults. Don't be seduced by surface beauty; check your floor, walls, and cabinets for imperfections and report them to the construction manager.
Changing Your Mind
Don't begin any remodeling project if you're unsure of your choice of materials and other factors relating to the project's success. It's better to take your time designing your kitchen layout and selecting materials than making changes during project execution.
Reordering and reconfiguring cause delays and affect your budget. It also tests your contractor's patience and might influence their attitude toward work.
Start Your Kitchen Renovation with Jim Keller Kitchen, Bath & Home
No renovation project planning is simple, and the kitchen is a significant part of the house that requires substantial planning and consideration. No matter how tight your budget is, the tips discussed in this article will help you stay on track with it. However, you don't have to do it all alone. If you need professional help, contact Jim Keller Kitchen, Bath & Home to get the best quality and design for your dream kitchen.
Whether it's a new construction, a renovation, or an expansion, trust us to deliver exceptionally on your project. Contact us at 847–844–1900 to book an appointment.